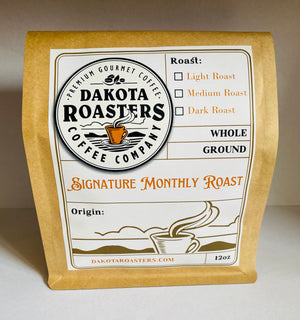 Dakota Roasters Coffee Company
Signature Monthly Roast
Sale price Price $15.00 Regular price
At the beginning of each month we will feature a single origin or a blend of our choosing, bringing more variety to our offerings!
September 1st - September 30th :  PUMPKIN ROLL     *GROUND ONLY

Tasting Notes :  A medium roast blend with pumpkin cake, cinnamon, and sweet icing notes!  Add a splash of sweet cream and experience a familiar flavor to a pumpkin spice latte!
***Comes in GROUND only***
Recommended Brew Method : Drip